TIGER 1200 EPIC ADVENTURE – A 3000KM JOURNEY ACROSS JAPAN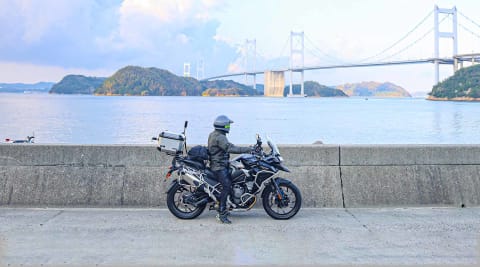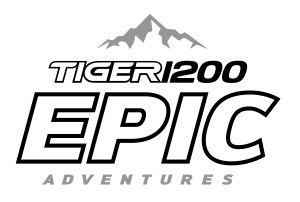 Triumph's Tiger 1200 is an adventure bike that knows no limit and has yet again left its mark on history.

In October 2022, Triumph Japan held the "TIGER 1200 CROSS-COUNTRY RELAY" across the Japanese archipelago. For this unprecedented challenge, a single Tiger 1200 GT Explorer crossed over 3000 km, from Triumph's northernmost dealership, Triumph Sapporo, all the way to Triumph Okinawa, the most southern one.

Five riders joined the challenge, OGA、e50exhaust、Ami Kimura、Taichi and Woka Rider, each adding their own unique personality to the ride. The first rider departed from Triumph Sapporo, and they relayed through different cities across the archipelago. Despite some unexpected course changes due to the weather, Woka Rider arrived at Triumph Okinawa, successfully completing the epic 3000km challenge. The journey was broadcast live on Triumph's and the riders 7 official social channels, allowing Triumph fans from all over the country to follow the journey.

Below, you can read the accounts of each of the rider's stage of the rally.
#Tiger1200EpicAdventures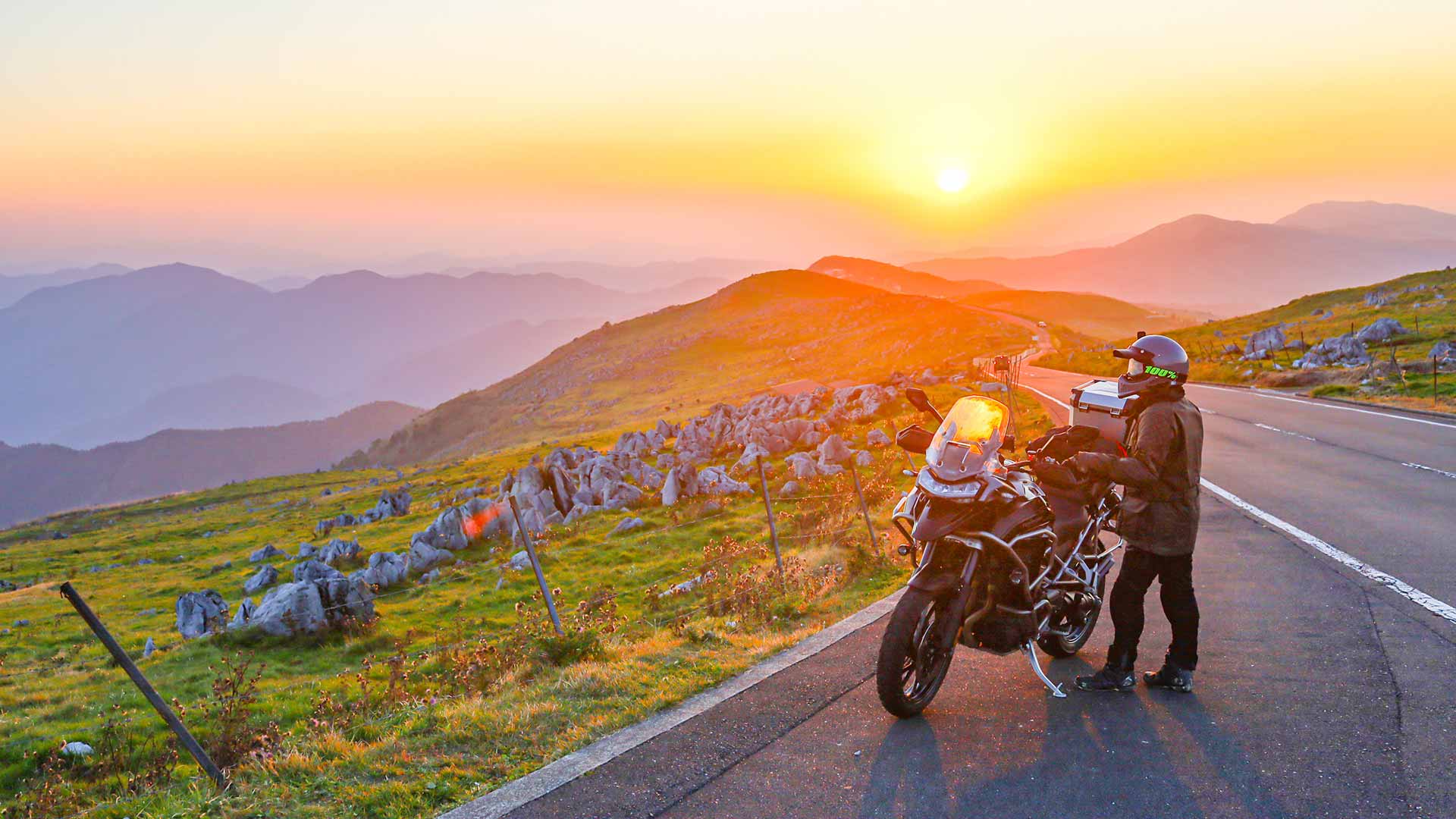 Day 1 - 2
Rider: OGA
Route: Triumph Sapporo → Hakodate → Aomori → Hachinohe → Sanriku → Triumph Sendai
OGA has established himself as one of Japan's leading riders, having competed and been on podiums of some of the world's most prestigious extreme biking competitions in The United States and Europe. He has also been invited to events and shows in other parts of the world, and his activities have expanded globally to Asia, Europe, the Middle East, Africa, and the United States. Now that he has stepped back from competing, his focus is on video production, using skills he gained through years of self-promotion. Active as a professional rider influencer with a YouTube channel with over 100,000 subscribers.

"Starting from Triumph Sapporo! The weather was fine as we headed to the port of Hakodate, taking in some of Hokkaido's most scenic spots and landmarks. It was seriously cold in Hokkaido, so the heated grips and seat of the Tiger 1200 really helped."

"We passed Yotei, a cone-shaped mountain towering over Hokkaido. Its shape is called Ezo Fuji, and it is popularly known as the local Fuji because of the mountain's resemblance. The Tiger 1200 is so cool, I love the powerful design around the tank and headlight area."

"We headed for Prefectural Road 32 in search of a mountain pass, but I didn't expect to find it in an area with dirt roads! I immediately switched the traction control to off-road and passed through without difficulty!"

"Once we arrived at Hakodate Port, the scheduled ferry to Oma was unexpectedly cancelled due to bad weather. We got on a ferry bound for Aomori instead, however, this delayed our schedule by 4 hours, and we arrived at the hotel at midnight. The Tiger 1200s headlights were very bright during the night ride from Aomori Port to Hachinohe, especially on high beam, and illuminated a very long distance."
"We departed from Hachinohe despite a storm warning. We took the expressway through Kuji city and made our way to the coastline. We then took Prefectural Road 268, which was a very scenic road with wild waves and sheer rock formations, reminding of the harshness of nature. The next destination was Jodogahama, but the day was very rough due to bad weather, but, just like on Prefectural Road 268 earlier, I enjoyed powerful views of the violent waves and their sound. I would definitely like to come back next time when the weather is clear"

"I reached my destination, Triumph Sendai. Although I was planning to visit sightseeing spots while doing the relay, the schedule was very tight. But I managed to arrive on time. The next rider is e50exhaust! Good luck on your long-distance trip!"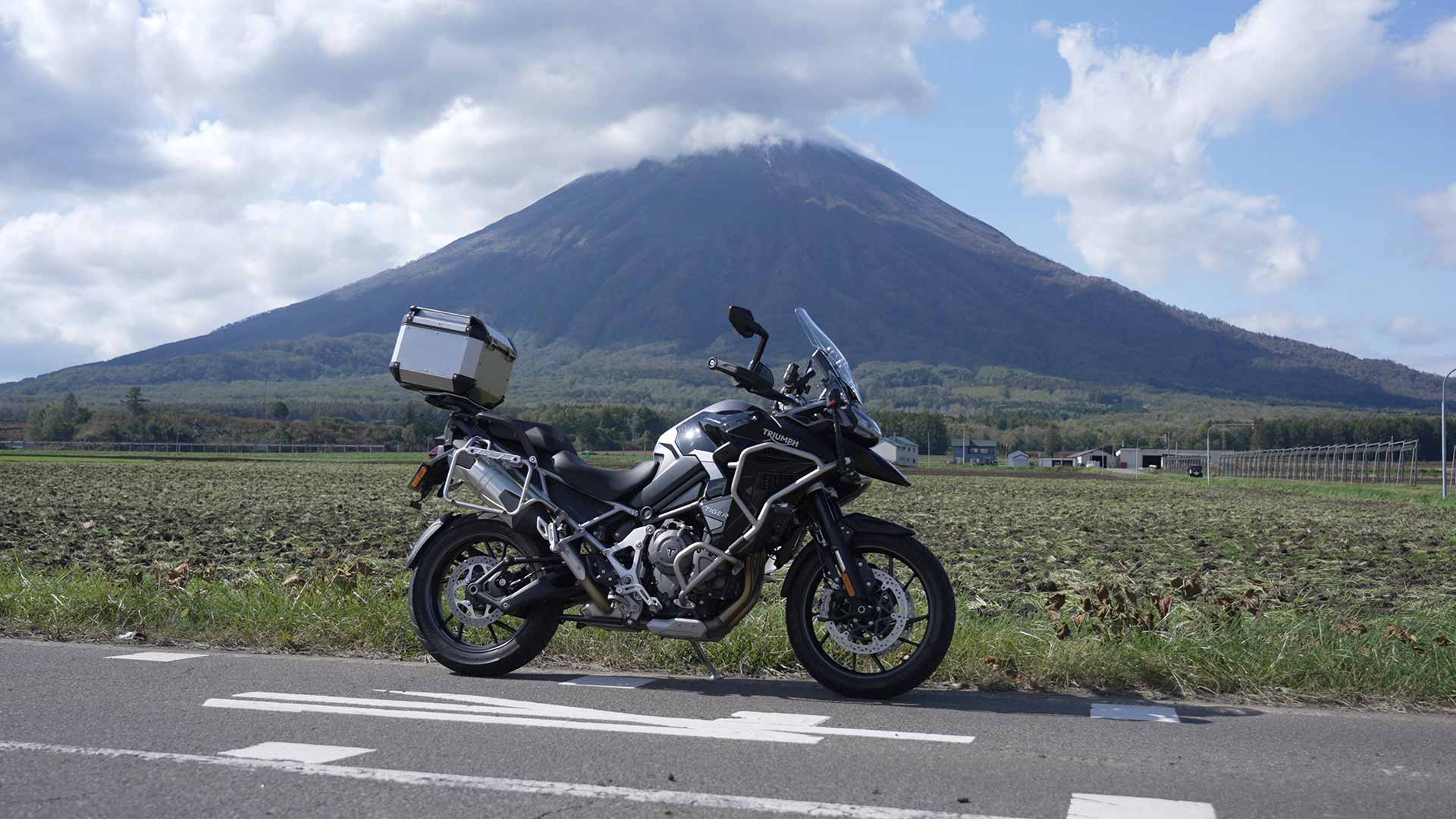 Day: 3
Rider: e50exhaust
Route: Triumph Sendai → Bandai → Inawashiroko Lake → Triumph Tokyo Bay
Born in 1968, from Tokyo, Machida, he rode motorcycles from age 16 to 31. Riding enthusiast, he loves the rocket acceleration of the 2nd engine, and has ridden RZ250R, R1-Z, and other 2nd engine motorcycles. Having turned 50 and his children being grown-ups, he has returned to large motorcycles. He has reviewed more than 107 motorcycles on YouTube.
"The Tiger 1200's big fairing keeps you out of the breeze even on the highway. I also tried the cruising mode and it was comfortable. Bandai Azuma Skyline is like Mars. The desolate land was truly an adventure. I couldn't go down and take pictures because of the storm, but the mighty Jododaira was a breathtaking sight! I Came down the Bandai-Azuma Skyline, heading to Inawashiro Lake. I'll check the route and look for a good soba restaurant. I had lunch at an elegant soba restaurant.The Jyuwari Soba noodles, which are made with spring water, were excellent. If I had the Tiger 1200, I could come here right away from Tokyo. I arrived at the shore of Lake Inawashiro, the mountains in the distance are beautiful. I want to take a sightseeing boat, but I must go home now. After that, I safely arrived at Triumph Tokyo Bay."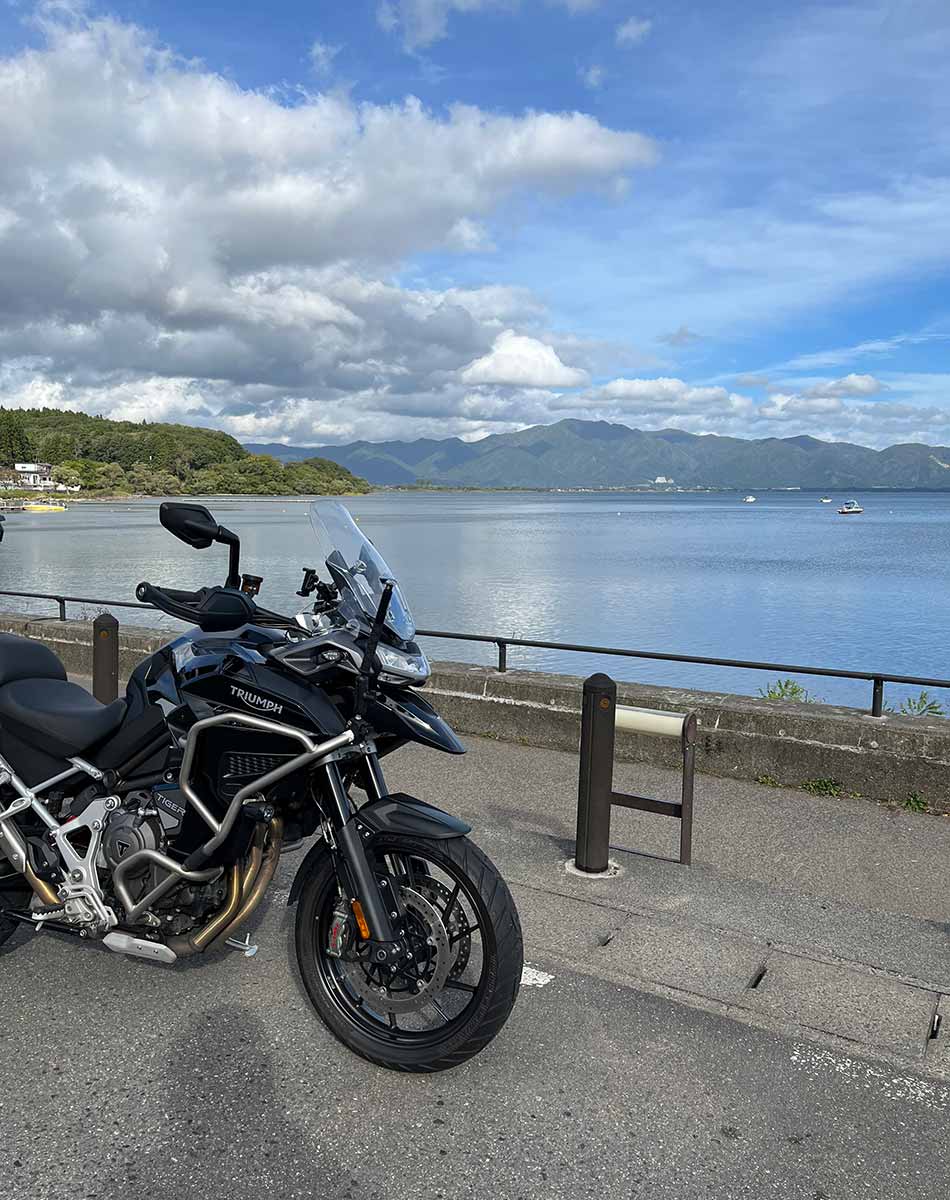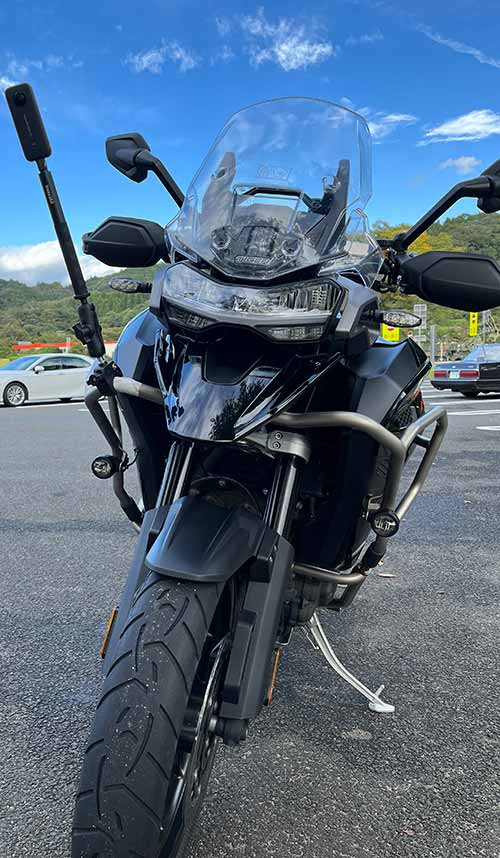 "The Tiger 1200's big fairing keeps you out of the breeze even on the highway. I also tried the cruising mode and it was comfortable"
Day 4
Rider: Amigo(Ami Kimura)
Route: Triumph Tokyo Bay → Triumph Osaka
Not only active as a model, writer, and motorcycle celebrity, she is a genuine vehicle enthusiast, actively participating in on- and off-road motorcycle races and rally events. She currently appears on the motorcycle information program Weekly Motorcycle TV .
"From Triumph Tokyo Bay to Triumph Osaka! The Tiger 1200 GT explorer is a reliable partner for long tours. I had a break at KUSHITANI Cafe. The hot-dog was so good, I was ecstatic. Finally, I reached the goal, Triumph Osaka! I'm surprised I made it from Tokyo to Osaka without refuelling, despite all the stops along the way!"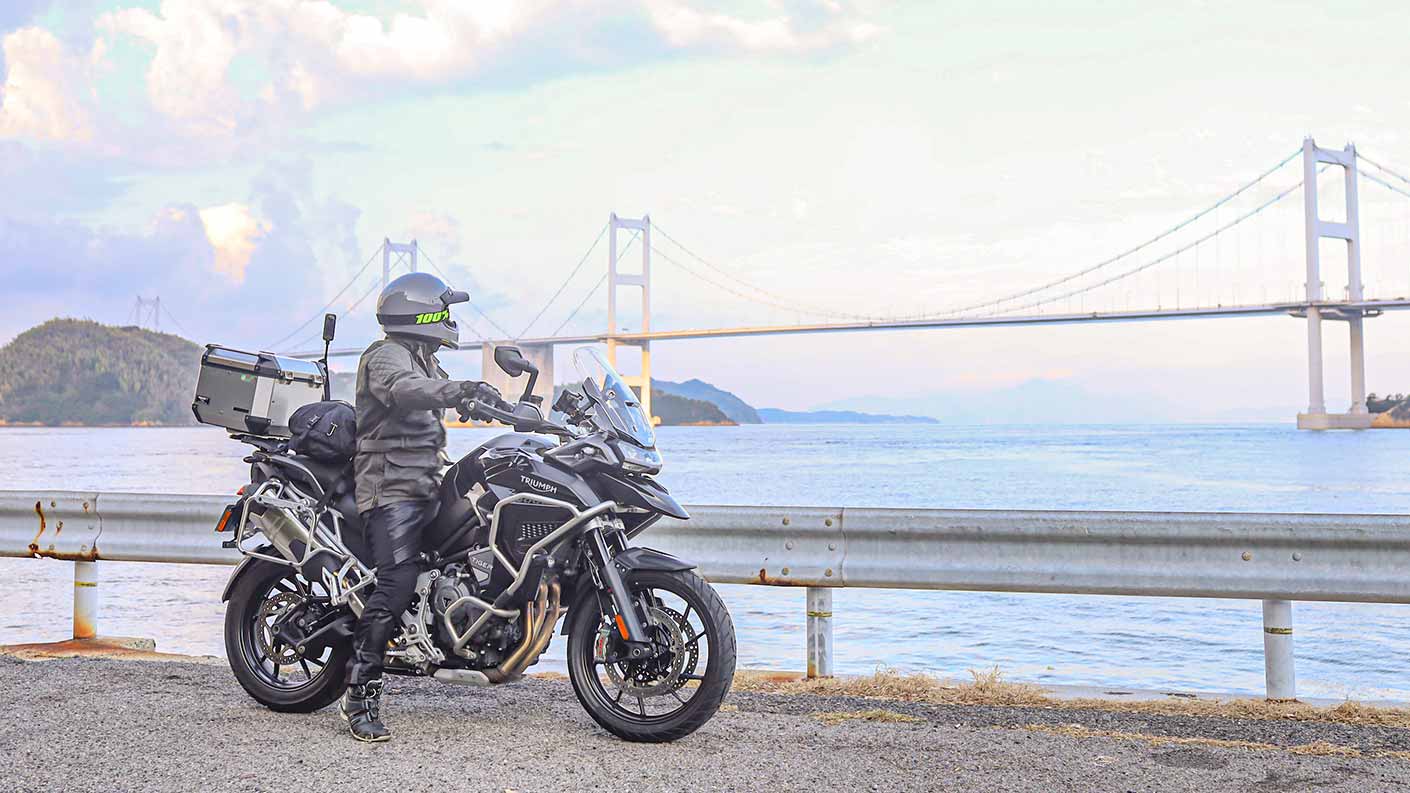 Day 5-6
Rider: Taichi
Route: Triumph Osaka → Awaji → Kochi → Matsuyama → Shimanami Kaido → Triumph Fukuoka
A rider who enjoys life in outdoors. Not only camping, but also long tours, he takes his followers to see things they've never seen, eat things they've never eaten, and discover an unknown Japan.
"Starting from Triumph Osaka, a spot overlooking the Akashi Ohashi Bridge from Awaji Island. I crossed the windy Akashi Ohashi Bridge stably thanks to the operating screen and the size of the bike's body. Shiraho Observatory, at the end of the Goshikidai Skyline, offered a panoramic view of the city of Kagawa. The karst plateau is located at an altitude of 1,000 to 1,500 meters above sea level. The heated grips and seats worked great in the cooler temperatures, and the fog lamps and high beams of the headlights were so bright even on dark roads."

"The bridge passes through the islands of Geyo in the Seto Inland Sea. As with the Akashi Bridge, the wind was strong and the movable screen and the size of the vehicle made it possible to cross the bridge stably. The view from the bridge was magnificent. The largest karst plateau in Japan (Akiyoshidai, Yamaguchi Prefecture), is as magnificent as the Shikoku Karst, and it was a heartwarming experience."

"After 2 days of touring,I am filled with a sense of accomplishment. According to Google, 516km on the first day, 477km on the second day, nearly 1000km later, I reached the goal safely in FukuokaThe bike's stability on highways and nimble movement on narrow mountain passes make made me think I'd like to take this bike on more trips"
Day: 7-8
Rider: Woka Rider

Route: Triumph Fukuoka → Aso → Kagoshima → Motobuko → Triumph Okinawa

A multi-talented YouTuber, does a variety of motorcycle-related videos, such as test rides, reviews of new motorcycles and motorcycle travel. His videos are characterized by a fast-paced, realistic style that makes full use of drone aerial photography and 360° cameras. His channel has 320,000 subscribers.

"Triumph Fukuoka, across the sea to Triumph Okinawa, the southernmost point of Japan! The clouds are starting to look a little menacing, but it's the Tiger 1200 GT explorer I'm riding, so I have a feeling I can make it! Heavy rain started on the highway right after we left, before we reached Aso! Running through the extremely cold mountains in October. Thanks to the heated grips and the big screen, we made it through!"

"Despite the tight schedule, I managed to make it to the ferry terminal for Okinawa! Not even tired, as expected from the Tiger. I landed in Okinawa at dusk, drove through the dark coastline and highways until I finally arrived at our final stop, Triumph Okinawa "Grit"! I was warmly welcomed by the local staff and fans! I didn't have to refill the tank that much during this trip, impressive."
TIGER 1200 GT, GT PRO i GT EXPLORER
Najlepsza gama motocykli podróżniczych, oferująca potencjał i komfort do odkrywania nowych tras, niezależnie od tego, jaki kontynent wybierzesz.
Teraz zawiera nową funkcję Aktywnej Redukcji Napięcia Wstępnego do zaawansowanej regulacji zawieszenia.