NAJSZYBSZY NA ŚWIECIE
ISLE OF MAN TT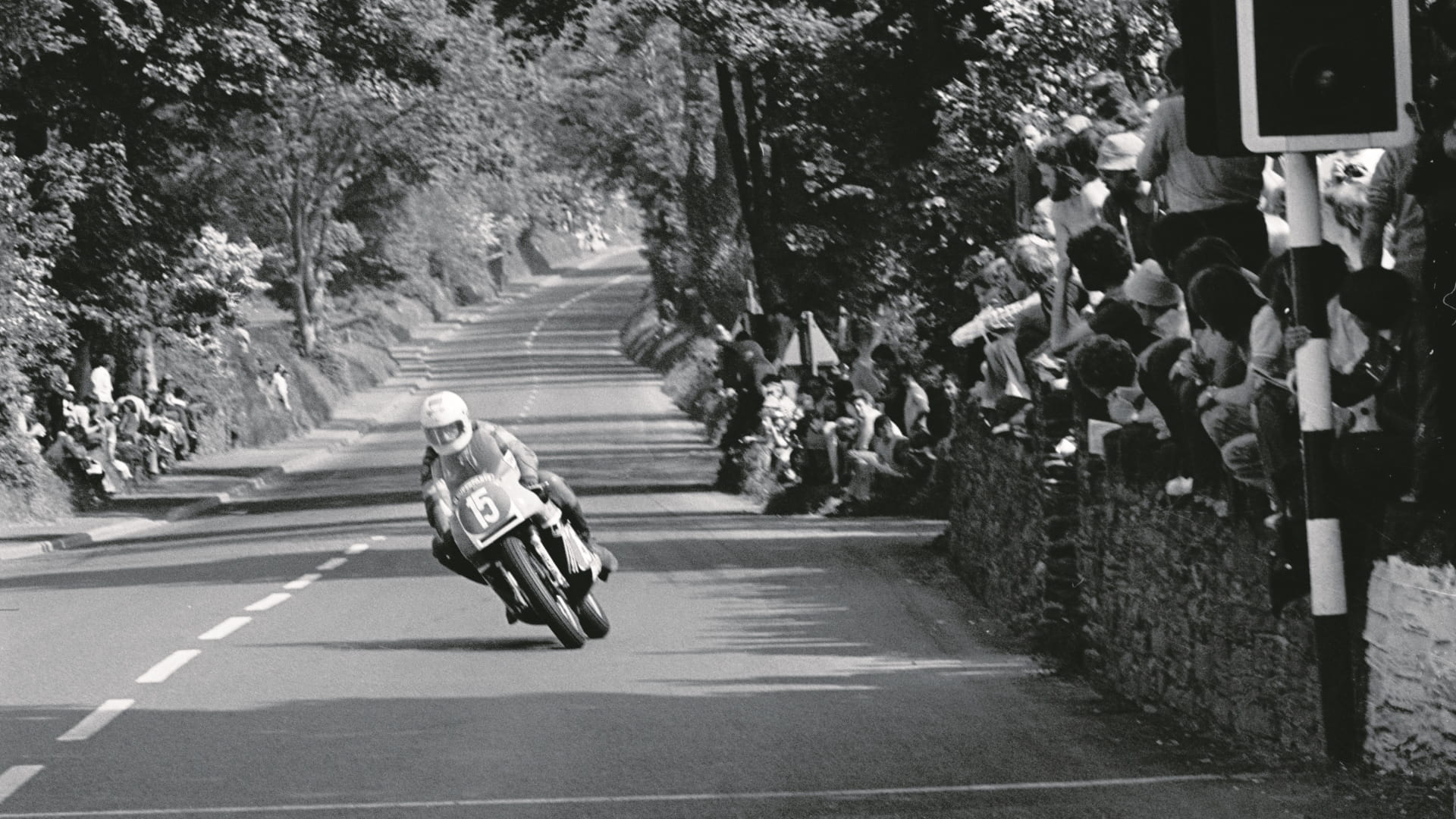 Image Source: Mortons Archive
Napędzane pasją i płonącą żądzą zdobycia pierwszego miejsca, maszyny Bonneville Thruxton, Trident, Daytona razem z nazwiskami ich nieustraszonych kierowców są nierozerwalnie splecione z historią tej kultowej imprezy.
Niektóre z tych samych osób, maszyn i osiągnięć technologicznych osiągających sukcesy na tym górskim torze (najprawdopodobniej jednym z najbardziej wymagających na Ziemi) napędzały również brytyjską i światową scenę klasy Supersport.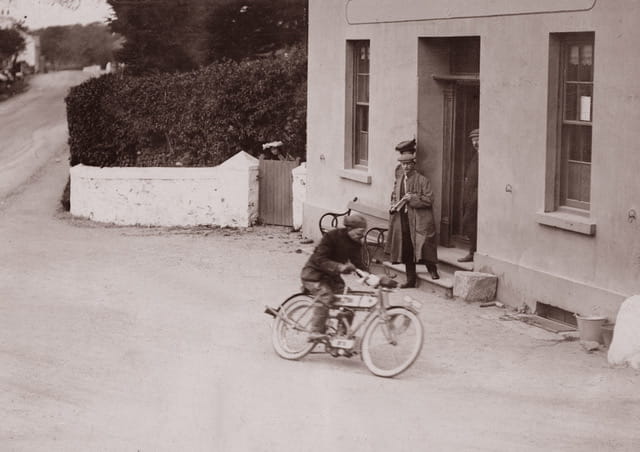 1907 – MARSHALL I HULBERT: DZIEDZICTWO
Kiedy Jack Marshall i Frank Hulbert terkocząc odjechali z pokrytej kurzem pierwszej linii wyścigu TT w 1907 r., rozpoczęli ponad sto lat tradycji firmy Triumph.
Image Source: FoTToFinders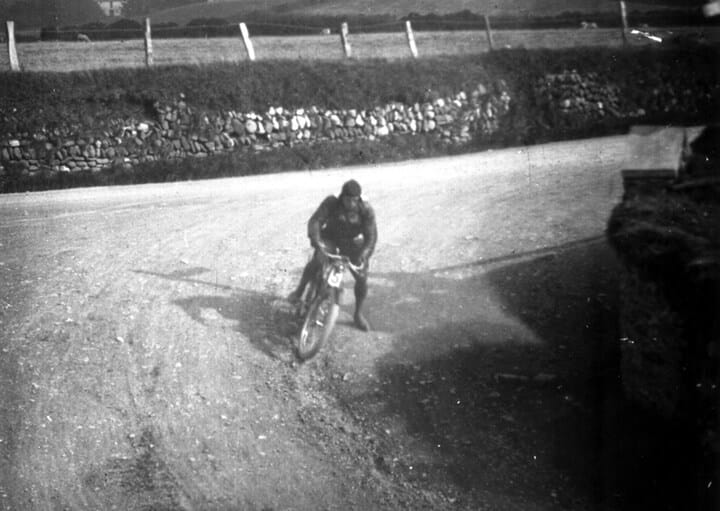 Marshall, urodzony w miejscu oddalonym o zaledwie kilka minut od fabryki Triumpha w Coventry, przejął prowadzenie, kiedy Hulbert zatrzymał się, aby wymienić świecę i kontynuował jazdę, kończąc na drugim miejscu po bolesnym upadku zakończonym paskudnym skręceniem kostki. Niezliczone muśnięcia lokalnych pojazdów i owiec w tym inauguracyjnym wyścigu zaowocowały wprowadzeniem osób nadzorujących stan trasy wyścigowej, która to tradycja została utrzymana po dzisiejszy dzień.
W następnym roku Marshall wrócił na prawdopodobnie pierwszym na świecie motocyklu wyścigowym stworzonym specjalnie z myslą o wyścigach i przewodził peletonowi podczas wyścigu zdominowanego przez maszyny firmy Triumph. Wskutek tego zwycięstwa sprzedaż Triumphów gwałtownie wzrosła i bardzo szybko do oferowanych modeli dodano sportowy, jednobiegowy model TT Roadster o zredukowanej liczbie elementów.
Image Source: Mortons Archive
CZY WIESZ, ŻE...?
Admirał Sir Robert Keith Arbuthnot jechał na motocyklu Triumph w odbywającym się w 1908 r. wyścigu Singles TT, w którym zajął trzecie miejsce. Arbuthnot, razem ze swoim motocyklem, utonął podczas bitwy Jutlandzkiej w 1916 r.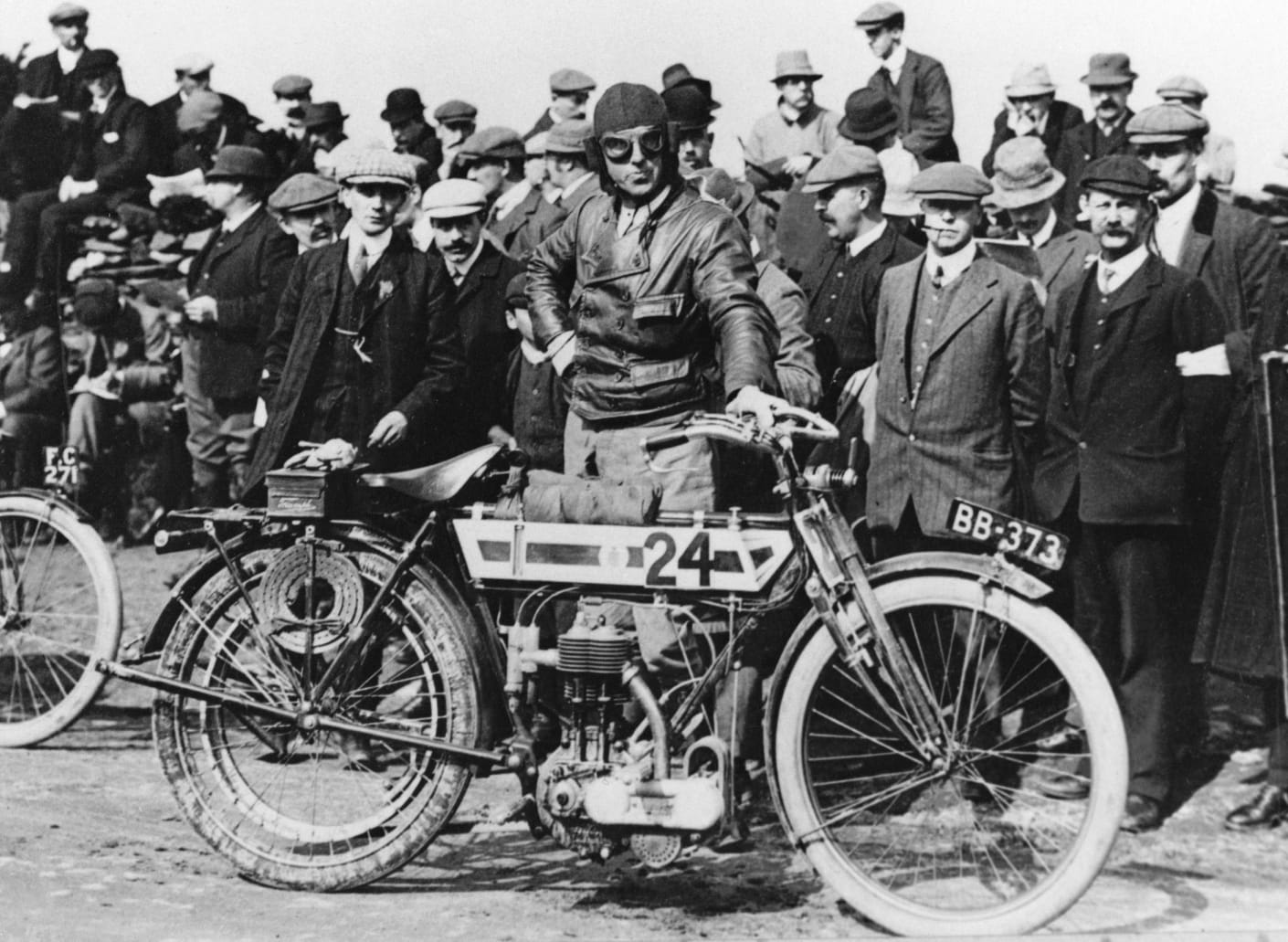 Image source: FoTTofinders
Lata 40. XX wieku — LWIE SERCE LYONSA
Era głównego projektanta Edwarda Turnera – człowieka stojącego za niektórymi z najbardziej kultowych Triumphów 20. Wieku — oraz jego utalentowanego działu eksperymentalnego nie mogła nadejść w lepszym momencie dla kierowcy wyścigowego Erniego Lyonsa.
Demon z Kildare był na granicy wyrobienia sobie marki w 1939 r. po obiecującym zwycięstwie w klasie 500 cm3 wyścigu North West 200, kiedy na scenę wkroczyła wojna, zawieszając na kołku jego karierę. Los odegrał swoją rolę po zakończeniu działań wojennych siedem lat później, a jego wytrwałość dała mu szansę na wzięcie udziału w wyścigu seniorów na prototypowym Triumphie.
Nawet oślepiająca mgła i siekący deszcz nie były w stanie mu przeszkodzić w zostaniu pierwszym kierowcą dwucylindrowego motocykla, który zdobył chwałę, zwyciężając w wyścigu TT przed jedną z największych widowni w historii tej imprezy.
Dwucylindrowy Triumph z silnikiem o pojemności 493 cm3 uzyskał średnią prędkość 123,5 km/h pomimo panujących warunków i stał się prototypem maszyny używanej podczas Triumph Grand Prix w 1948 r.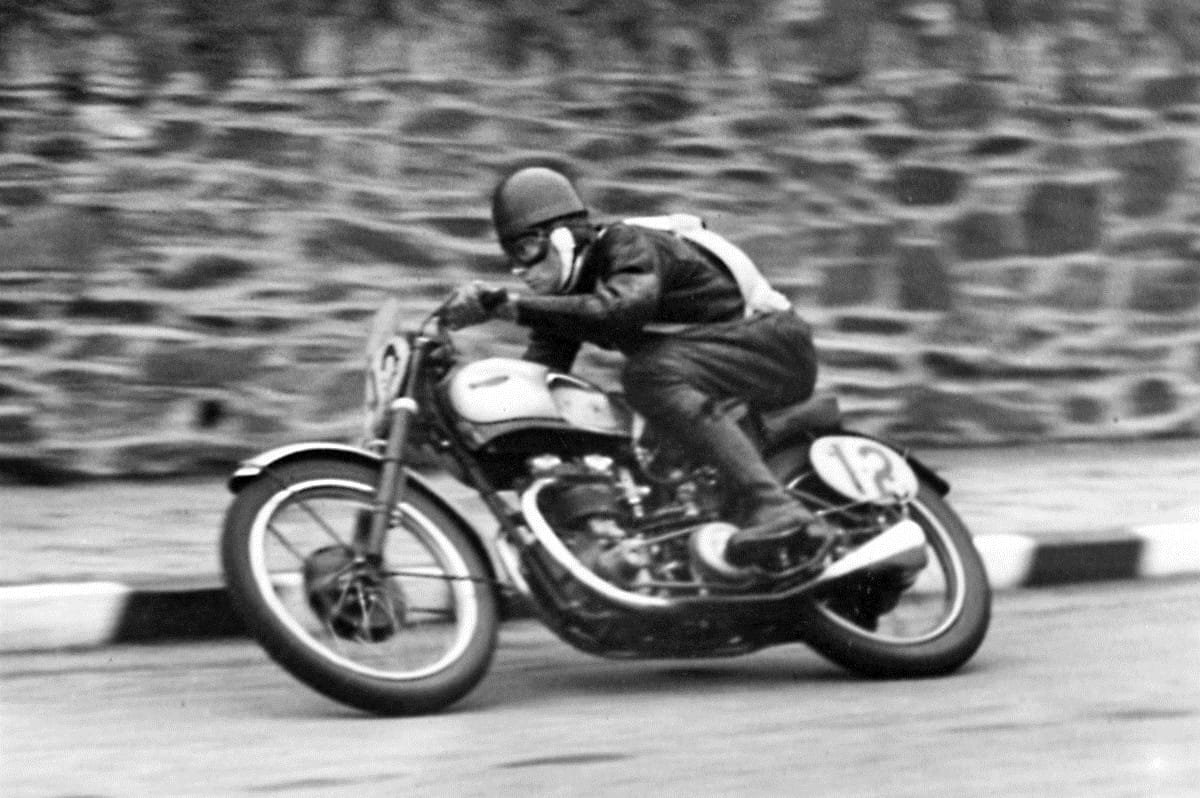 Image Source: Mortons Archive
1969 – NIEPRZERWANE PASMA SUKCESÓW
Malcolm Uphill zdobył uznanie opinii publicznej oraz tytuł w "dwójkach" w 1969 r., kiedy zabrał Triumph Bonneville Thruxtona na przejażdżkę po torze TT z prędkością 161 km/h (100 mph), co oznaczało, że był to pierwszy seryjnie produkowany motocykl, który pokonał okrążenie z taką prędkością. Jednakże prawie do tego nie doszło.
Odniesiony przez niego sukces w klasie maszyn produkowanych seryjnie o pojemności 750 cm3 (który dał mu w nagrodę 50 funtów i radio tranzystorowe) był nieodzowny dla stałej obecności maszyn firmy Triumph na scenie wyścigów maszyn tego typu.
W kolejnym roku Uphill ponownie zwyciężył w tej samej kategorii, tym razem na stuningowanym motocyklu Trident z trzycylindrowym silnikiem o pojemności 750 cm3. Był to początek trzycylindrowych motocykli Slippery Sam firmy Triumph.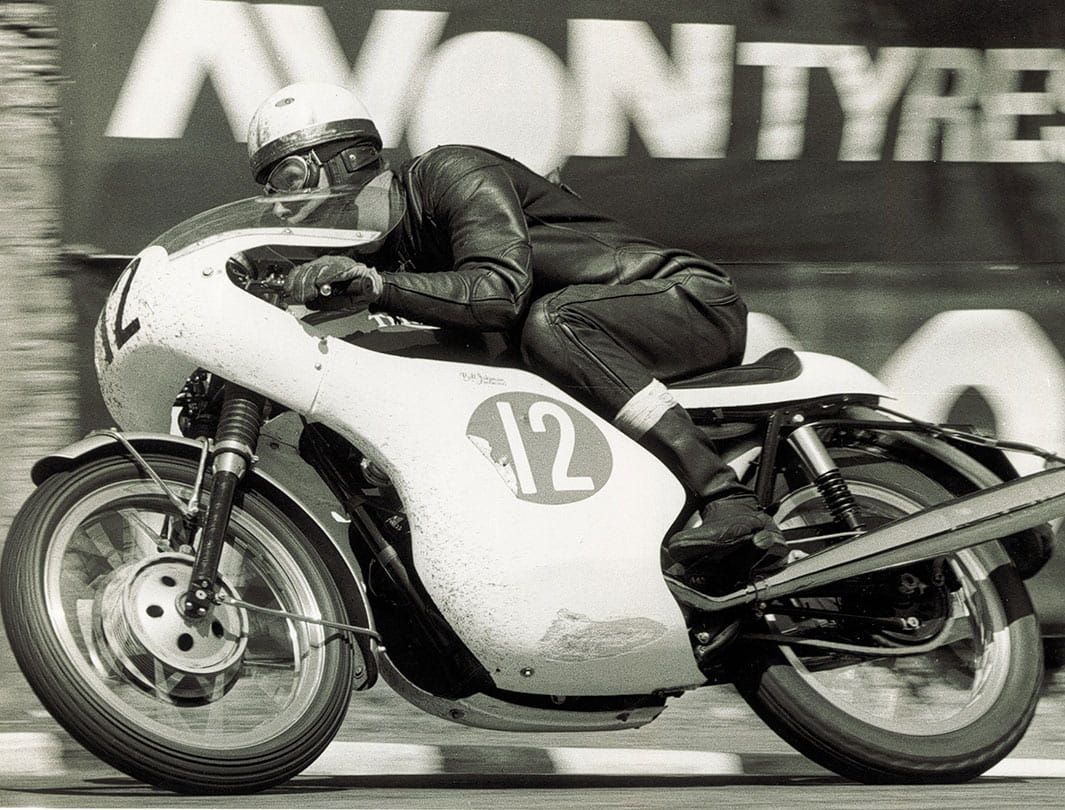 Image Source: Mortons Archive
1970 – SLIPPERY SAM
Slippery Sam — jeden z trzech motocykli Trident stworzonych przez firmę Triumph z myślą o wyścigach TT w 1970 r. – pod kontrolą Uphilla, rycząc zdobył pierwsze miejsce w wyścigach TT.
Początki tej maszyny nie wróżyły jednak dobrze: problemy z silnikiem i wyciek oleju w połowie 24-godzinnych wyścigów maszyn produkowanych seryjnie w Bol d'Or we Francji wyczerpał cały zespół, który z ulgą przyjął zdobycie piątego miejsca. Do kierowców zdobywających tytuły na motocyklu Slippery Sam, w niewiarygodnej liczbie pięciu kolejnych zwycięstw w klasie Production 750 pomiędzy 1971 i 1975 r., należała siedmiokrotna legenda wyścigów TT, Mick Grant.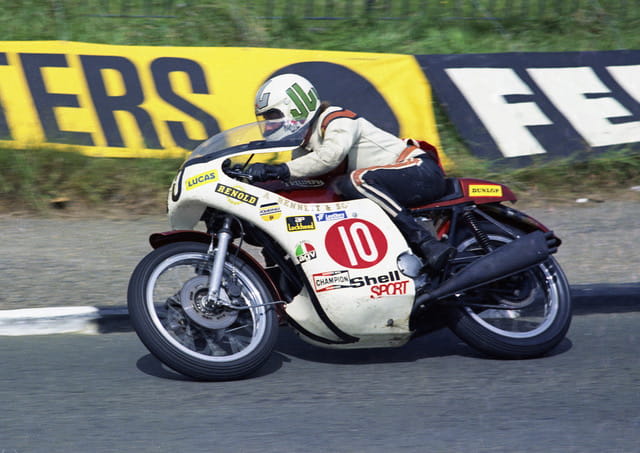 Image source: FoTToFinders
Ten kultowy motocykl został poważnie uszkodzony w pożarze z 2003 r. w Krajowym Muzeum Motocyklowym Wielkiej Brytanii, lecz później został kompletnie odrestaurowany.
2003 – Z POWROTEM NA TORZE
Nowozelandczyk Bruce Anstey wysłał spektakularną wiadomość do świata wyścigowego, kiedy jego Daytona 600 bezapelacyjnie zdobyła pierwsze miejsce w wyścigach 2003 Junior TT, kończąc jazdę o 10,96 s przed kolejnym rywalem i uzyskując najszybszy czas w klasie Supersport TT, 1:15.13.98. W pierwszej 10 dołączyła do niego jeszcze dwójka kolegów z drużyny Triumph ValMoto. Triumph w wielkim stylu wrócił do gry po 28-letniej absencji.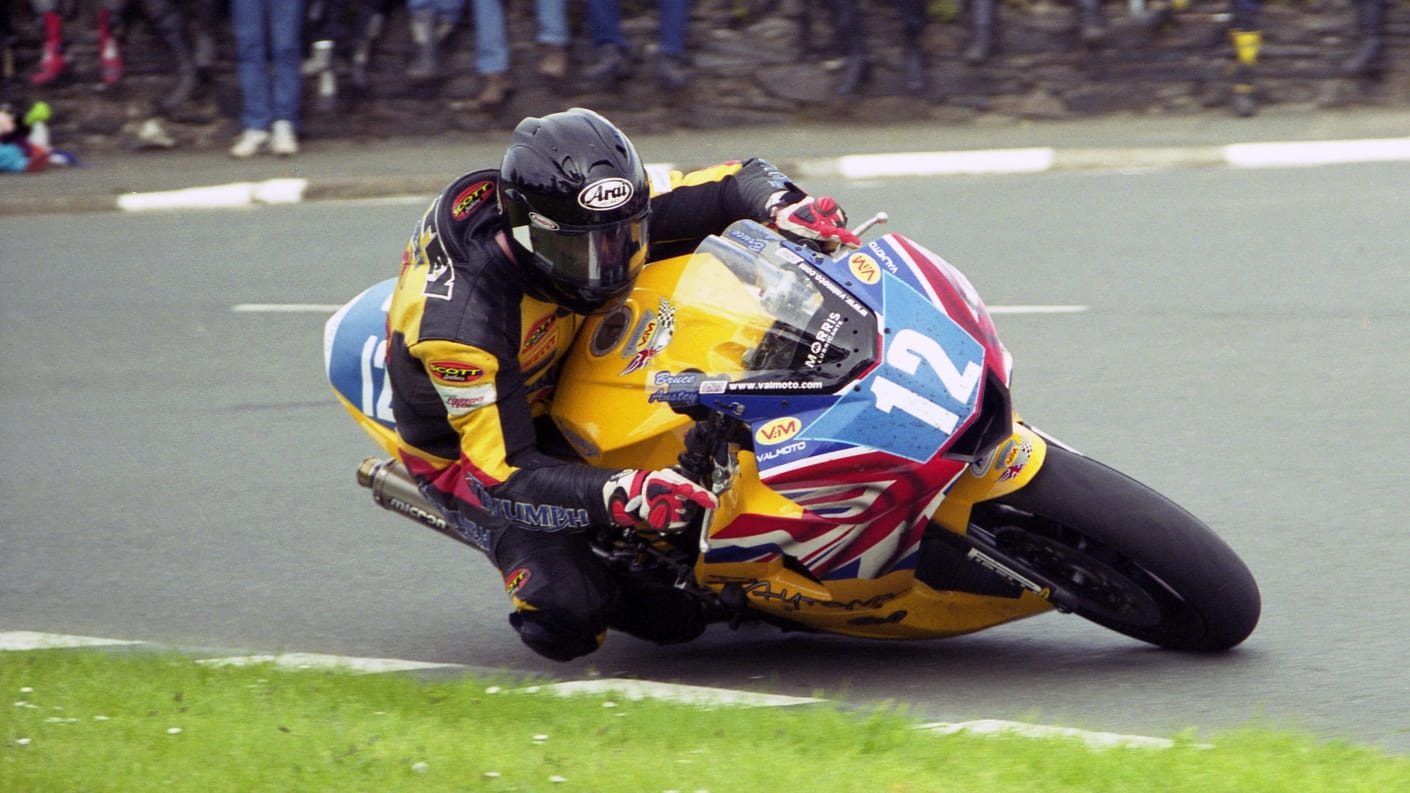 Image source: FoTToFinders
2014 – KROK W PRZYSZŁOŚĆ
Jedenaście lat po tym, jak Bruce Anstey zasygnalizował intencję Triumpha, wrócił do wyścigów TT, tym razem naciskając na najnowszego bohatera firmy Triumph, Gary'ego Johnsona, co doprowadziło do pamiętnego zwycięstwa.
Jedenaście lat po tym, jak Bruce Anstey zasygnalizował intencję Triumpha, wrócił do wyścigów TT, tym razem naciskając na najnowszego bohatera firmy Triumph, Gary'ego Johnsona, co doprowadziło do pamiętnego zwycięstwa.
Johnson oświadczył: "Goście tacy, jak Jack i Ernie ścigali się, kiedy jakość dróg pozostawiała wiele do życzenia, a mimo to byli w stanie osiągać oszałamiające prędkości. Byli lepsi od nas i dzięki nim doszło do ugruntowania pozycji firmy Triumph jako konstruktora maszyn z silnie wyścigowych charakterem."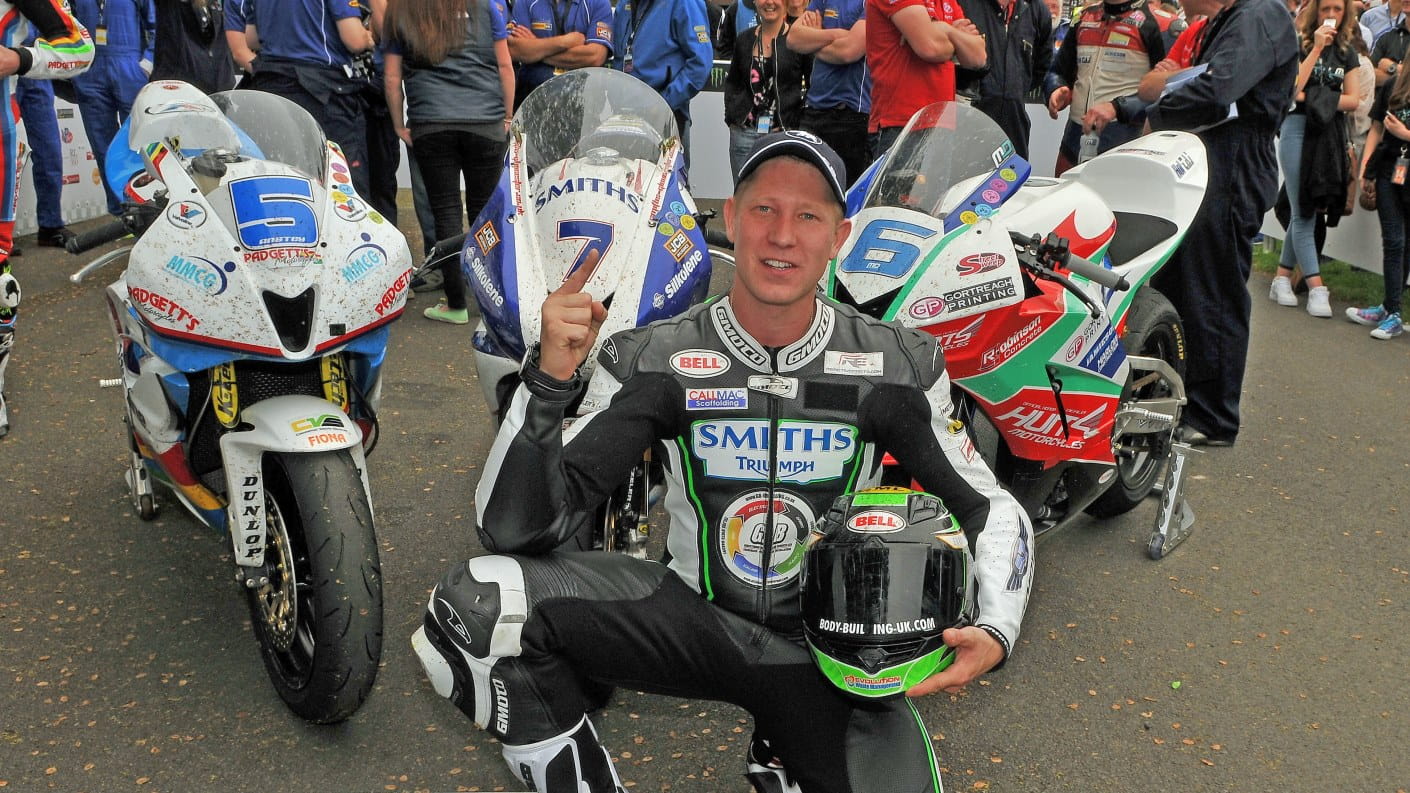 ZWYCIĘZCA WYŚCIGÓW. POGROMCA REKORDÓW. TWÓRCA HISTORII.
Landspeed
Isle of Man TT
Daytona 200
Track - Supersports
Track - MOTO2
Ama Grand National Flat Track
Daredevils
Landspeed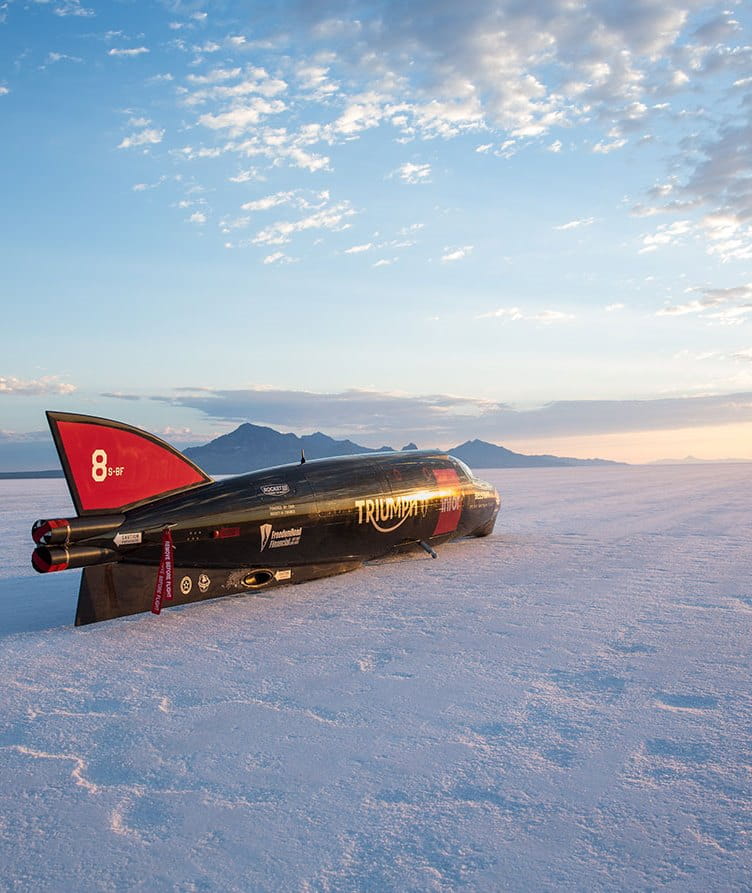 Isle of Man TT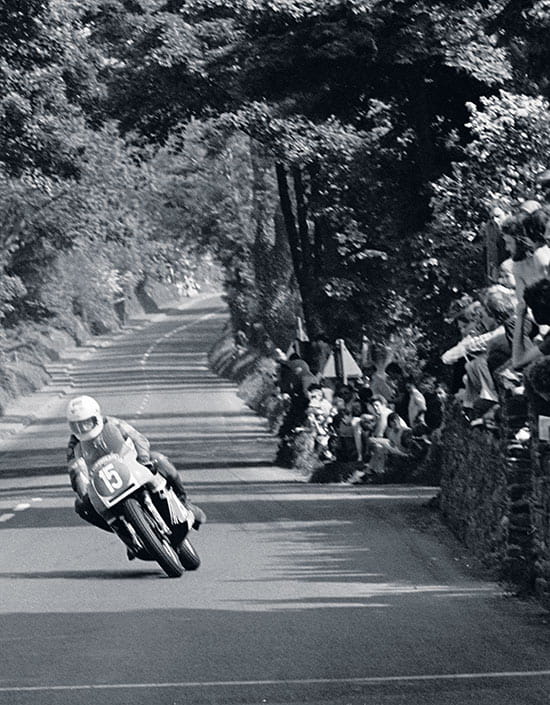 Image Source: Mortons Archive
Daytona 200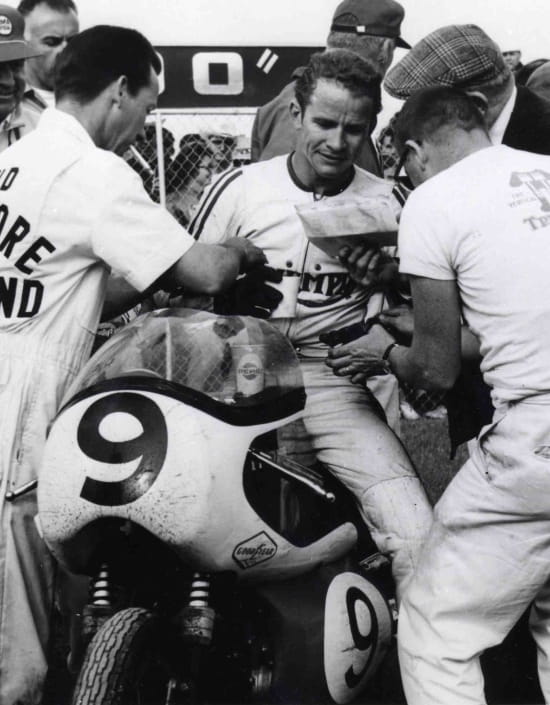 Image Source: John Nelson Archive
Track - Supersports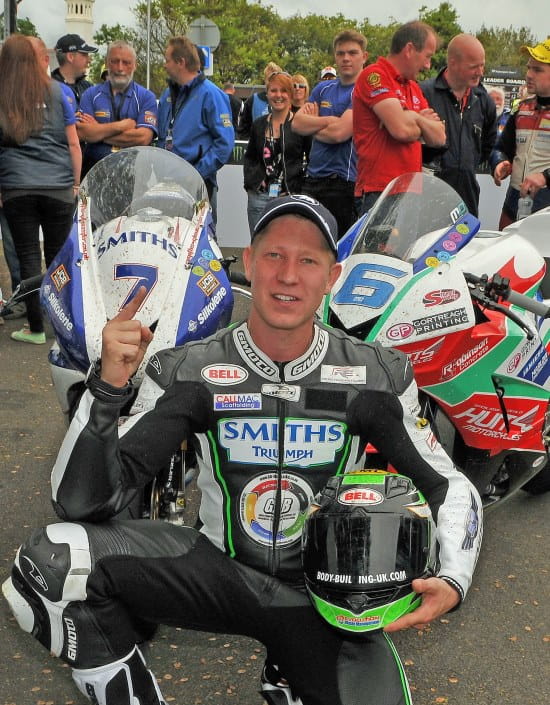 Track - MOTO2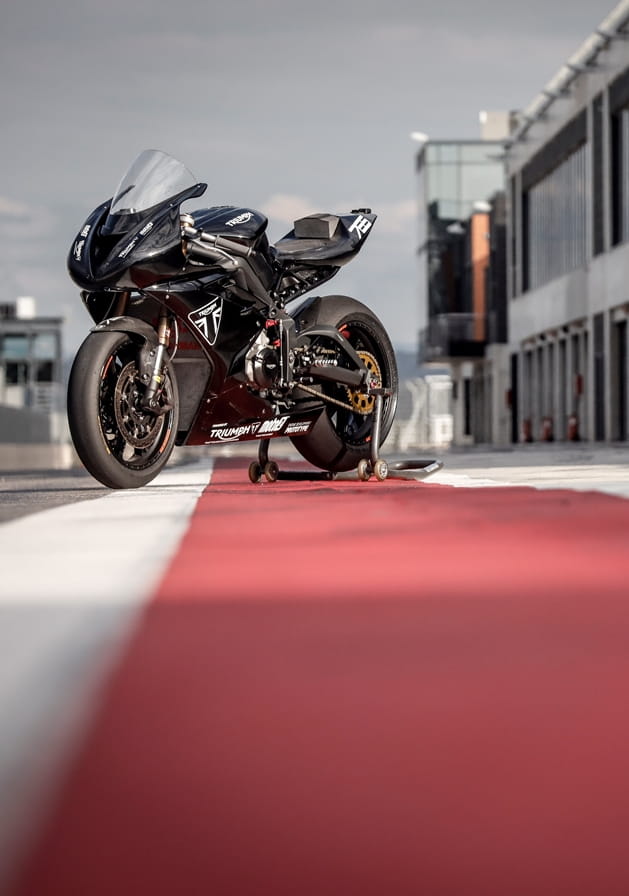 Ama Grand National Flat Track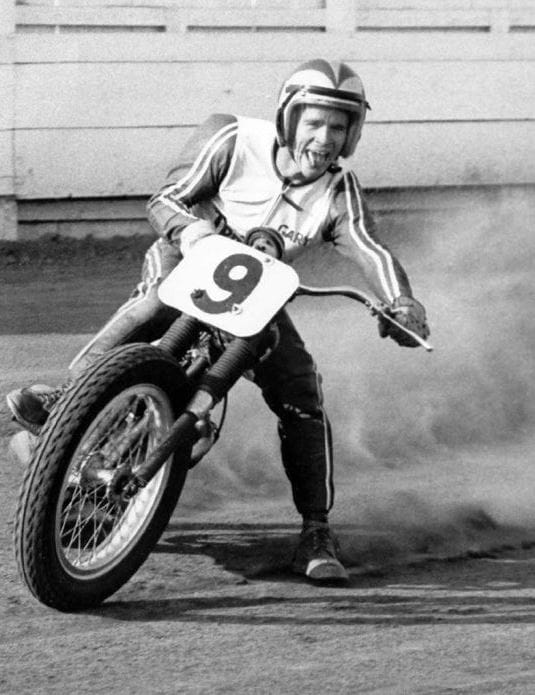 Daredevils