NAJSZYBSZY NA ŚWIECIE
PRĘDKOŚĆ NA LĄDZIE
POKONYWANIE GRANIC: TYLKO DLA ODWAŻNYCH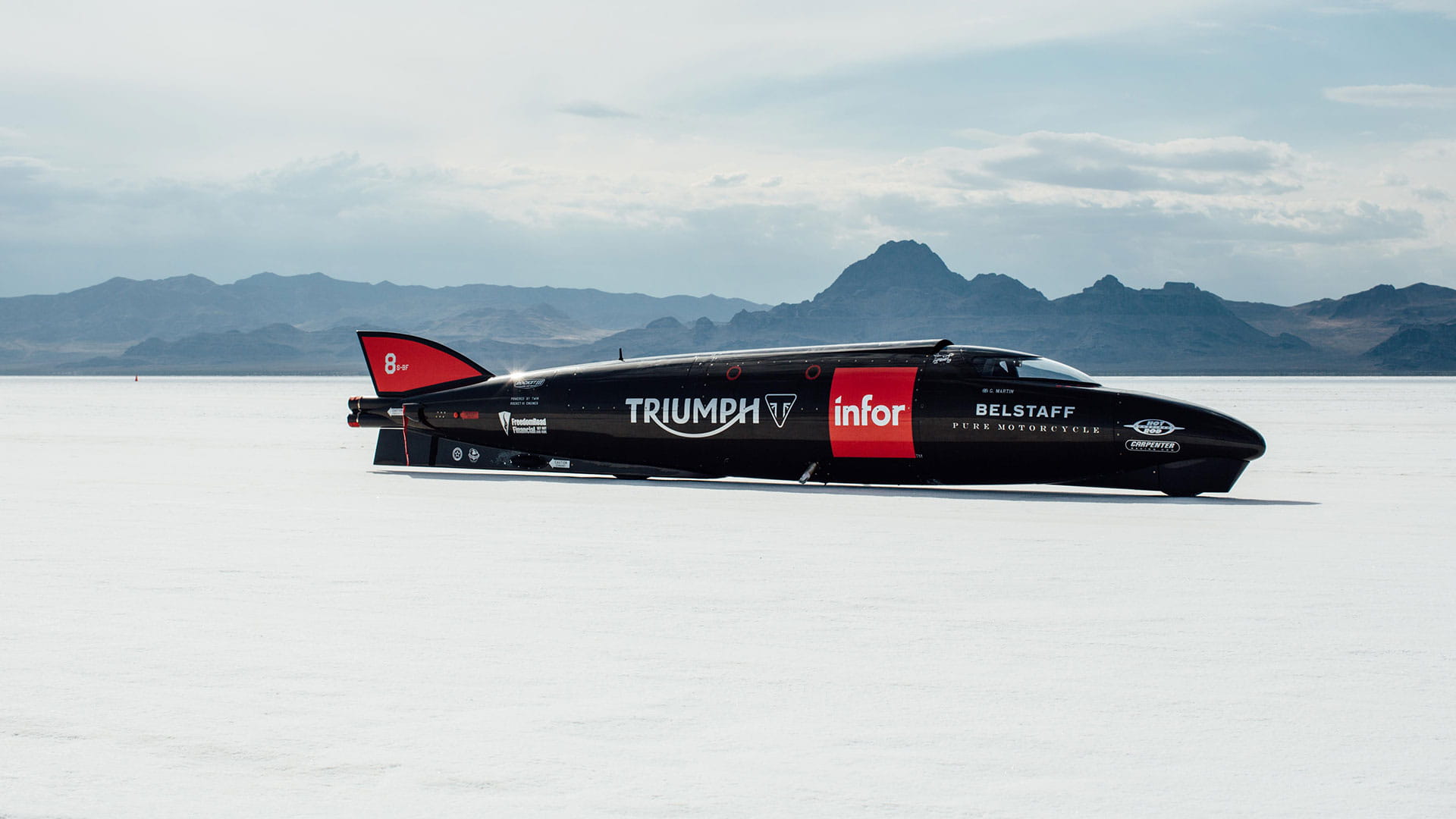 Stulecie temu, nawet zanim Bluebird Malcolma Campbella osiągnął prędkość 235 km/h, ustanawiając pierwszy rekord świata w dziedzinie prędkości na lądzie na plażu Pendine Sands w 1924 r., jeźdźcy maszyn Triumph wręcz rozciągali granice. Ich motocykle były awangardą najwcześniejszych maszyn, które stały się najszybsze na świecie na siedmiomilowym, płaskim jak lodowisko, odcinku w południowej Walii... brytyjskim odpowiedniku słonej pustyni Bonneville.
Przewińmy czas do okresu powojennego... w 1954 r. Jack Dale rozebrał się do kąpielówek, aby zwiększyć aerodynamikę swojego Triumpha Thunderbird podczas jazdy na słonej pustyni Bonneville.
Image Source: Mortons Archive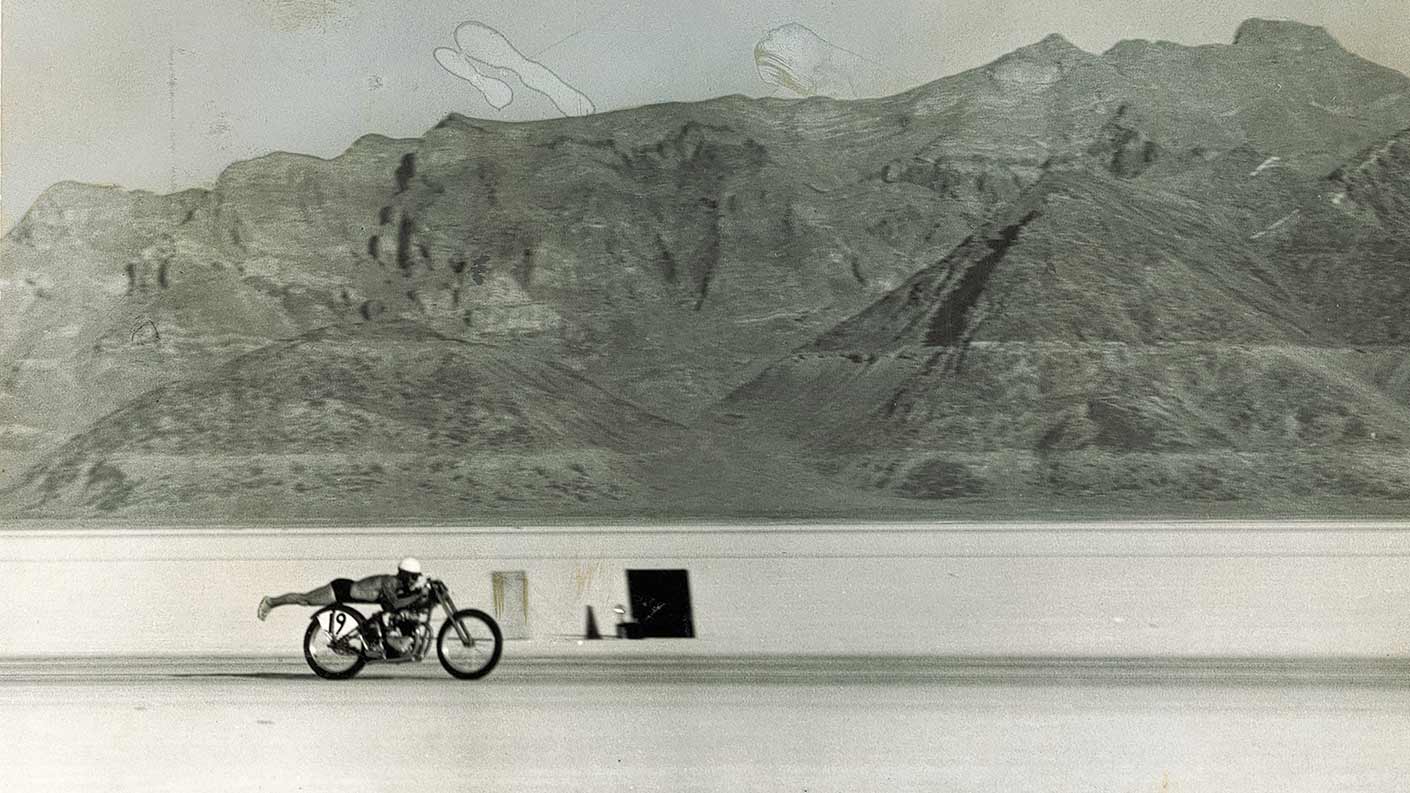 1955 – DIABEŁ UDAJE SIĘ DO UTAH
Johnny Allen był pionierem w prawdziwym tego słowa znaczeniu — człowiek, dla którego strach przed nieznanym był zaledwie dodatkowym bodźcem do pokonania pełnych soli równin w Bonneville z prędkością zbliżoną do jednej trzeciej prędkości dźwięku.
We wrześniu 1955 r. ten śmiałek zasiadł za kierownicą 4,5-metrowego bolidu Devil's Arrow (Diabelska strzała), a następnie zarejestrowano jazdę po tych słonych równinach z wstrząsającą prędkością 311 km.
Kiedy kilka miesięcy później niemiecki zespół NSU Motorenwerke pojechał jeszcze szybciej, zespół Triumpha powrócił do Bonneville ze świeżo odmalowaną maszyną o nowej nazwie i ponownie rozbił w pył poprzedni wynik, odzyskując tytuł najszybszego motocykla na świecie.
Image Source: Mortons Archive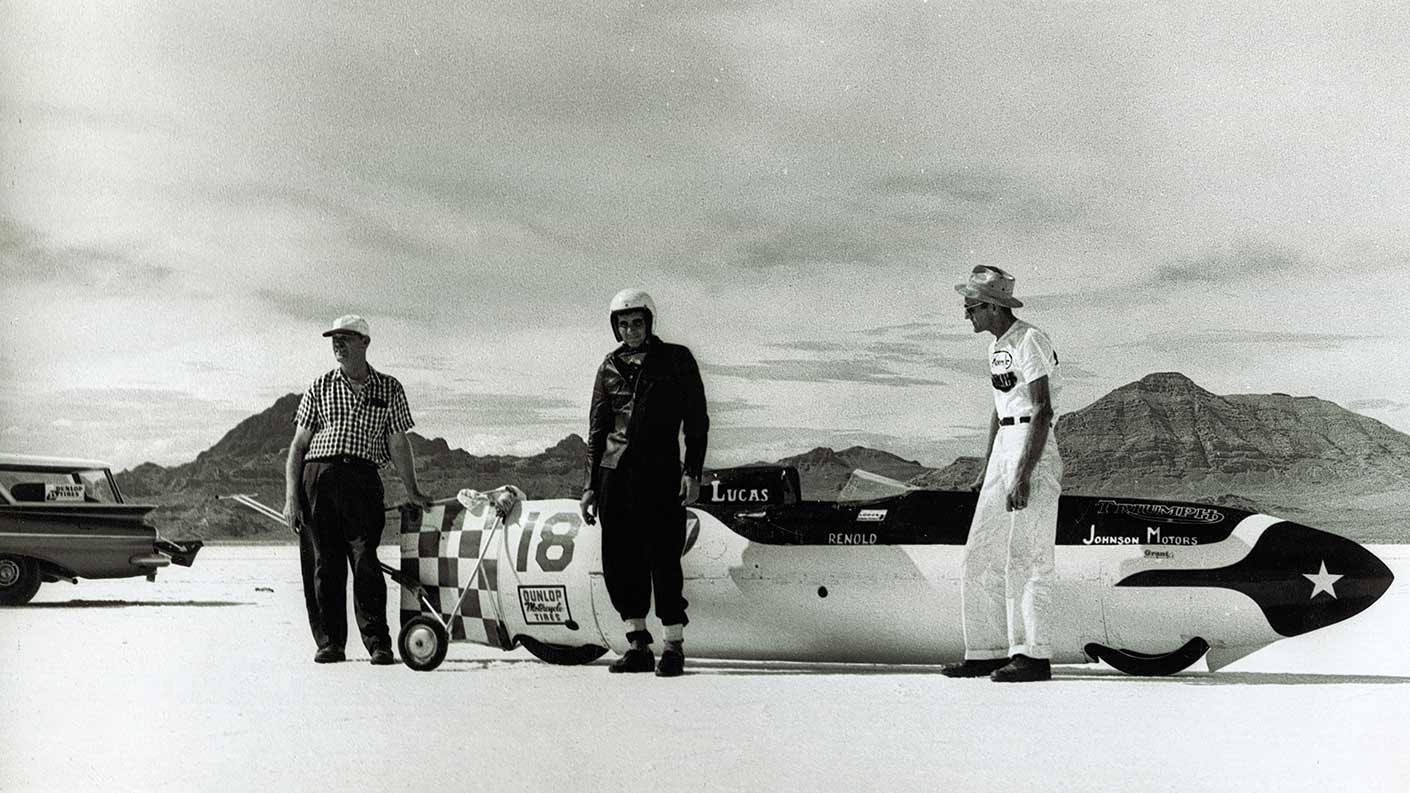 Dzięki temu sukcesowi narodziła się legenda, czyli Texas Cee-Gar, i rok od pierwszego podejścia Allena uzyskano rekord świata prędkości czyli 345 km/h... którego rywale nie zdołali pobić przez sześć długich lat.
Kultowy Triumph Bonneville, wprowadzony na rynek w 1958 r., swoją nazwę zawdzięcza zespołowi Cee-Gar, którego technologiczne umiejętności i nadludzka wytrzymałość stanowiły inspirację dla 38 motocykli z logo Triumpha, które zdobyły rekordy prędkości w klasie AMA National oraz cztery rekordy świata FIM.
962 — OPTYMALIZACJA POD KĄTEM SUKCESU
Wyścig trwał w najlepsze, kiedy nadeszły lata sześćdziesiąte, dekada stanowiąca uosobienie ludzkiej chęci do jeszcze szybszej jazdy na większe odległości.
W cieniu podróży kosmicznych mechanik lotniczy, Joe Dudek, połączył koncepcję samolotu odrzutowego X-15 z wydrążonym silnikiem T120 Bonneville, podnosząc wyżej poprzeczkę w Utah.
Początkowo kierowca Bill Johnson pilotował maszynę Dudeka, osiągając rekordową prędkość z napędem benzynowym (330 km/h), lecz następnie ci dwaj śmiałkowie spuścili z motocykla benzynę, wymienili dysze gaźnika i zatankowali maszynę nitrometanem.
Rezultatem tej operacji był nowy rekord świata prędkości jazdy motocyklem (361 km/h) potwierdzony przez arbitra AMA, Busa Schullera (zbiegiem okoliczności również właściciela Thunderbirda, którego w kąpielówkach ujeżdżał Jack Dale). Bolid Dudeka uległ zniszczeniu w pożarze w 1974 r., lecz jego rekord żył w klasie S-AF (Streamlined, Altered Frame and Fuel) aż do 1992 r.
1966 – NIGDZIE SIĘ NIE UKRYJESZ
Poprzedni rekord został pobity o blisko 20% w 1966 r. przez Boba Leppana z ogromnym wsparciem rewolucjonisty w dziedzinie aerodynamiki, Alexa Tremulisa. Ze swoją maszyną Gyronaut X-1 Leppan uzyskał niewiarygodne 394 km/h.
Image Source: Getty Images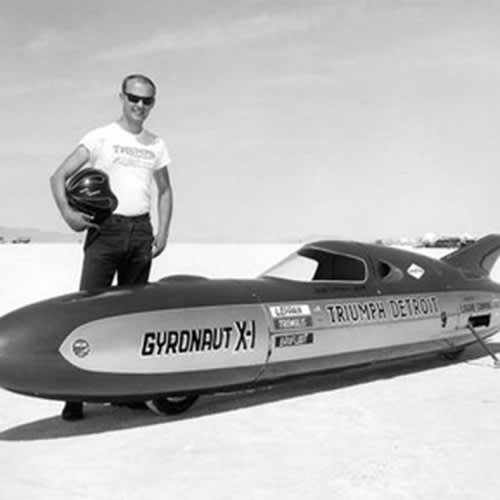 BOB LEPPAN
"Jeżeli chcesz się tym zajmować, nie możesz być normalną osobą" powiedział Leppan, dealer Triumpha o najwyższych wynikach sprzedaży w USA, omiatając wzrokiem 18-kilometrowy płaskowyż bieli.
"Jeżeli nie jesteś przygotowany, aby rzucić na szalę wszystko, co masz, to nie jest to coś, czym powinieneś się zajmować. Musisz być trochę... niezrównoważony.
"Kiedy wszystko idzie po twojej myśli," — przypomniał sobie Leppan, "jest to fantastyczna jazda, ale kiedy coś idzie nie tak, sytuacja szybko staje się absolutnie przerażająca. Podczas drugiej jazdy pomyślałem sobie "jeżeli pisana mi jest kraksa, to niech będzie największa z możliwych. To jest właśnie to!" Oczywiście, że odczuwasz strach, lecz musisz sobie z tym jakość poradzić."
Image Source: gyronautx1.com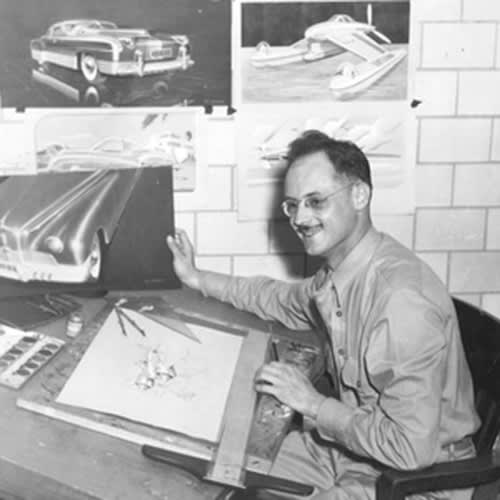 ALEX TREMULIS
Syn greckich imigrantów i błyskotliwy inżynier z doświadczeniem w pracy u różnych producentów pojazdów — Tremulis był prawdziwym wizjonerem.

Podczas pracy dla Forda zaprojektował samochód "którym według niego będziemy nadal jeździć w roku 2000", a podczas okresu w Korpusie Lotniczym stworzył pierwsze hipotetyczne szkice statków kosmicznych w kształcie spodka, jakie według niego będą używane przez kosmitów do odwiedzania Ziemi. Właśnie tego rodzaju wizji potrzebował Leppan.

Tremulis stworzył nowe, przełomowe projekty, w tym nowe oprofilowanie, chromowo-molibdenową ramę, aktywne podwozie, pałąk zabezpieczający, układ przeciwpożarowy oraz specjalnie zaprojektowane opony Goodyear do prędkości 402+ km/h — gdzie wszystkie te komponenty stworzono z myślą o zwiększeniu prawdopodobieństwa sukcesu... i przeżycia.
Image Source: gyronautx1.com
TWORZYMY HISTORIĘ
W 2014 r. rozpoczęto nowy projekt mający unieśmiertelnić firmę Triumph jako jedynego producenta motocykli, który pięciokrotnie pobił rekord prędkości na lądzie przy jeździe motocyklem.

Wykorzystując napędzany dwurzędowym napędem rakietowym o mocy 1000 KM zupełnie nowy bolid z włókna węglowego, dedykowany zespół pełnych pasji inżynierów i dwóch z najbardziej skupionych i odważnych pilotów na świecie, stawił czoła legendarnym słonym równinom Benneville i walczył z przeciwnościami, dążąc do zdobycia największej nagrody w sportach motocyklowych.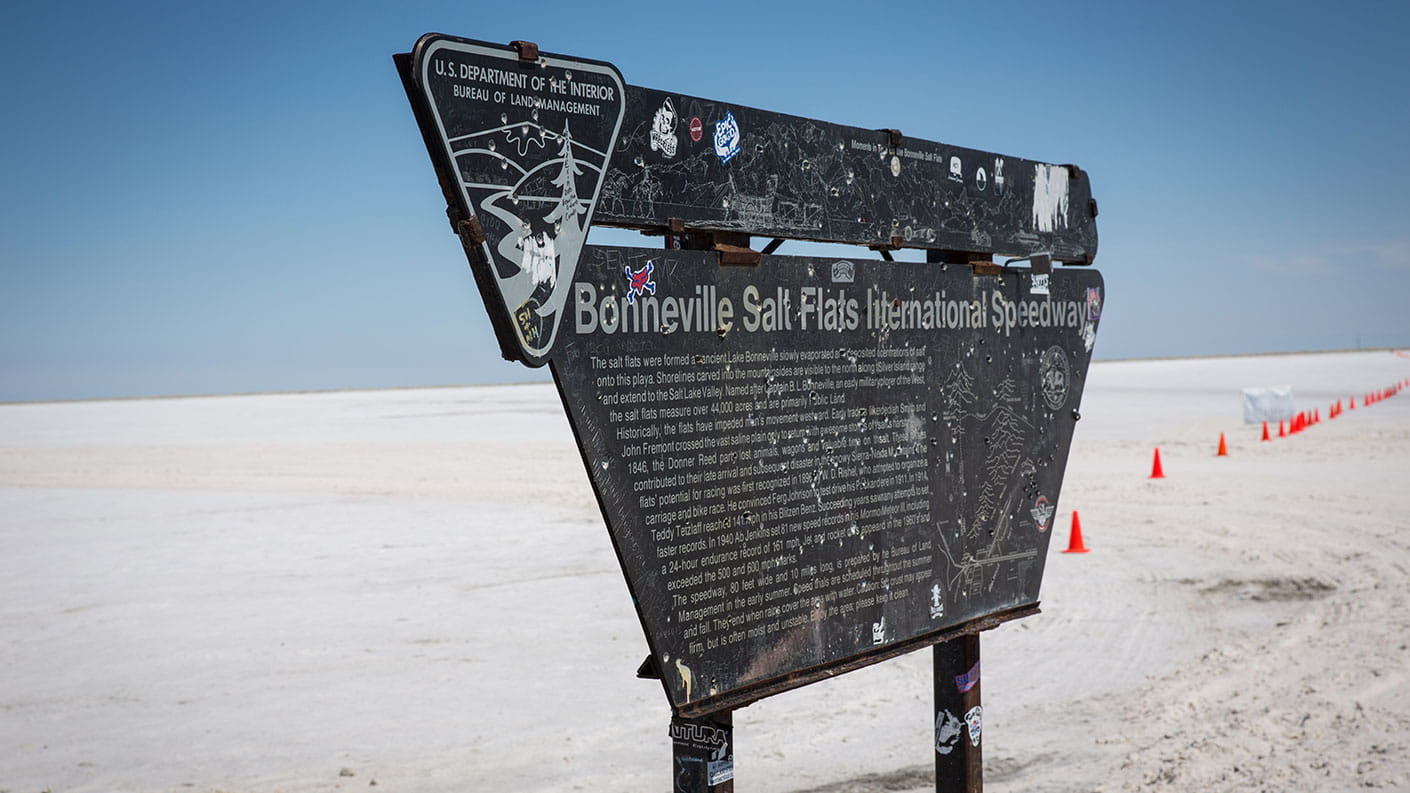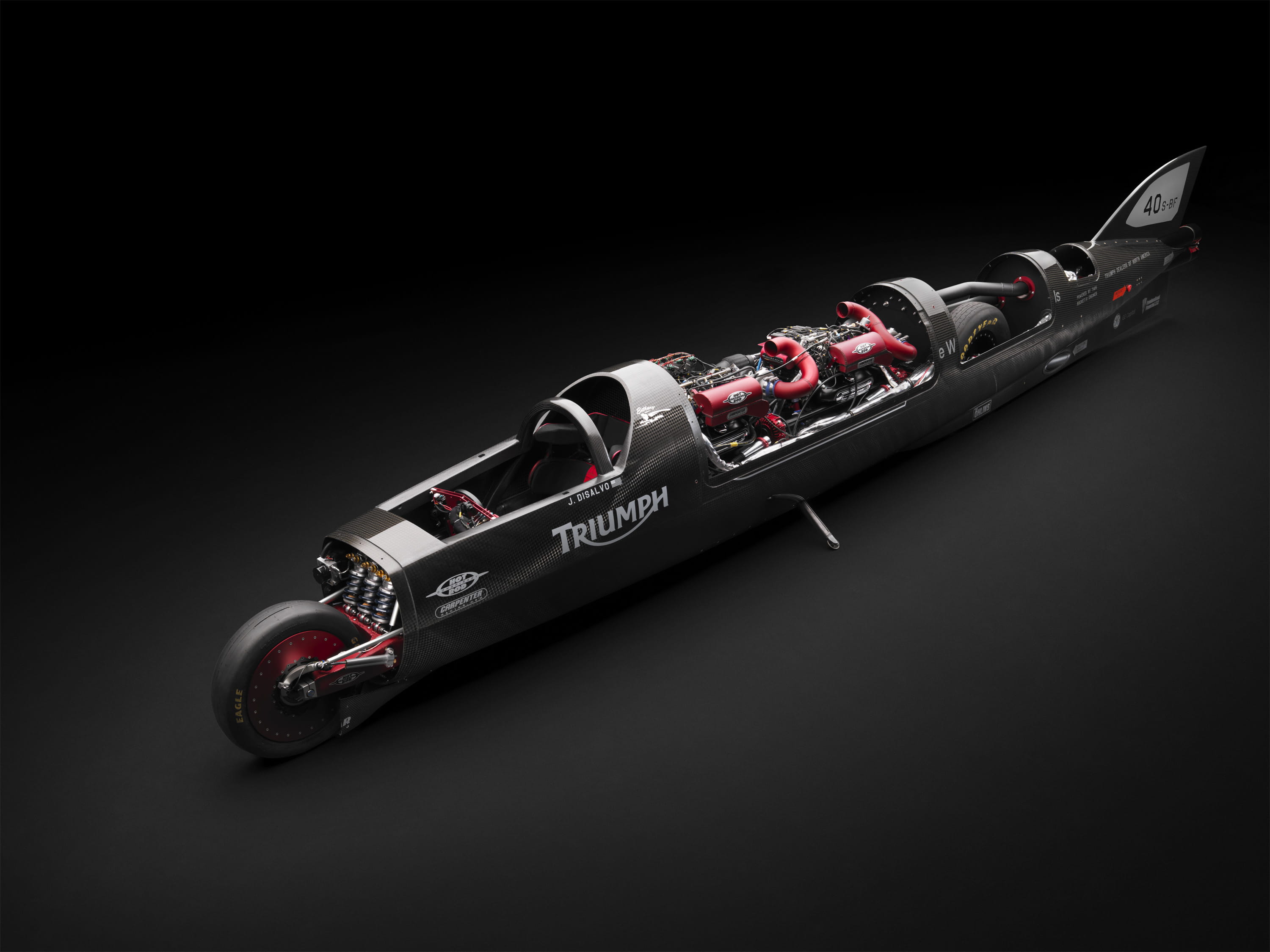 CASTROL ROCKET III
Zaangażowano zwycięzcę wyścigu Daytona 200, Jasona Di Salvo, do pilotowania bolidu Triumph Castrol Rocket III z celem pokonania ustanowionego na nowo w 2010 r. rekordu 605 km/h — magiczną liczbą było 644 km/h (400 mil/h), lecz Matka Natura postanowiła się sprzeciwić temu pomysłowi.
Di Salvo opowiada: "Kiedy dłuższy czas jeździsz z wysoką prędkością po tych słonych równinach, w pewnym momencie przestajesz odczuwać tę prędkość. Interesującym aspektem jest wracanie wypożyczonym samochodem do hotelu i uświadomienie sobie, że jedziesz 160 km/h."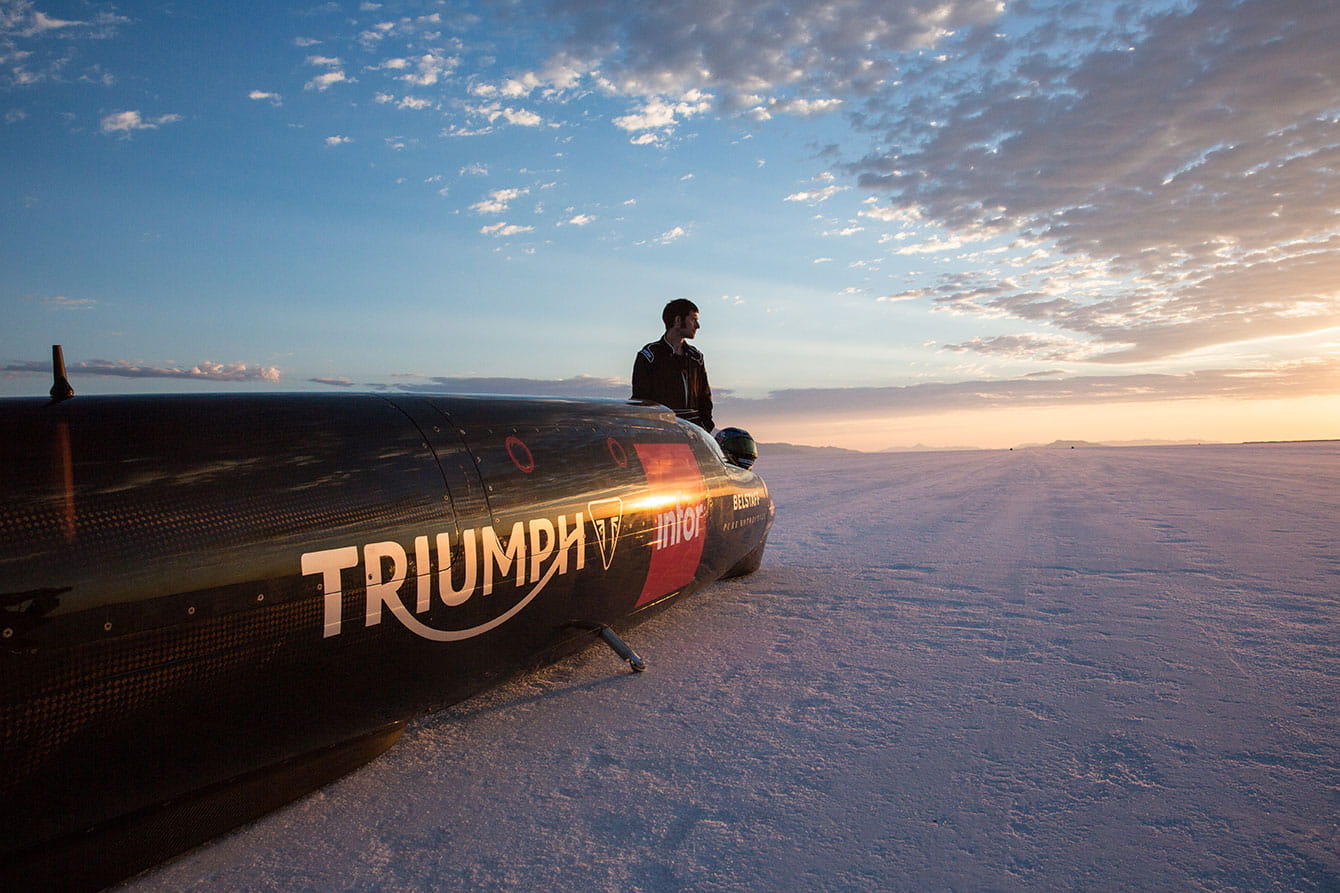 RAKIETĄ W PRZYSZŁOŚĆ
Misja firmy Triumph, której celem jest pokonanie bariery 644 km/h jest w dalszym ciągu oczywiście aktualna, gdzie niedawno w fotelu pilota zasiadł kierowca wyścigowy klasy TT Guy Martin (w 2016 i 2017 r.).
Ponownie warunki panujące na tej słonej pustyni sprzysięgły się przeciwko próbie z wykorzystaniem bolidu Triumph Infor Rocket Streamliner, gdyż przygotowany tor zalała woda, uniemożliwiając wykorzystanie dwóch zasilanych metanolem silników bolidu Rocket III z podwójnym turbodoładowaniem.

A co przyniesie przyszłość? Obserwuj to miejsce.
ZWYCIĘZCA WYŚCIGÓW. POGROMCA REKORDÓW. TWÓRCA HISTORII.
Landspeed
Isle of Man TT
Daytona 200
Track - Supersports
Track - MOTO2
Ama Grand National Flat Track
Daredevils
Landspeed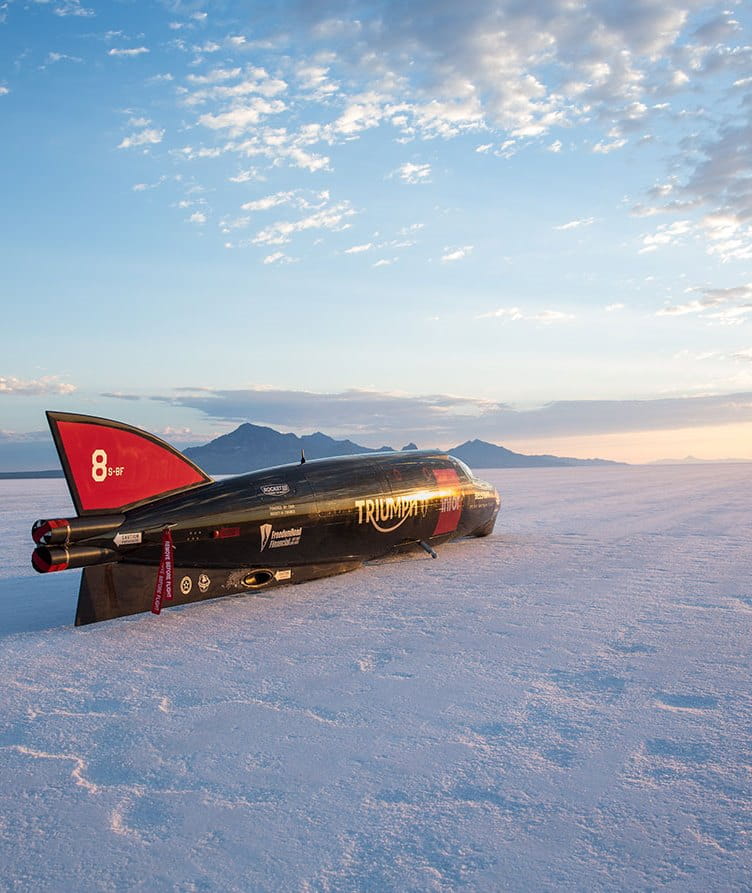 Isle of Man TT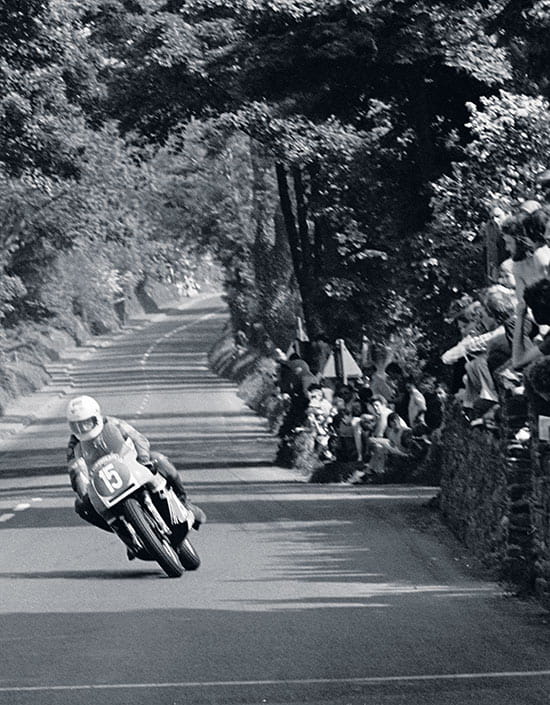 Image Source: Mortons Archive
Daytona 200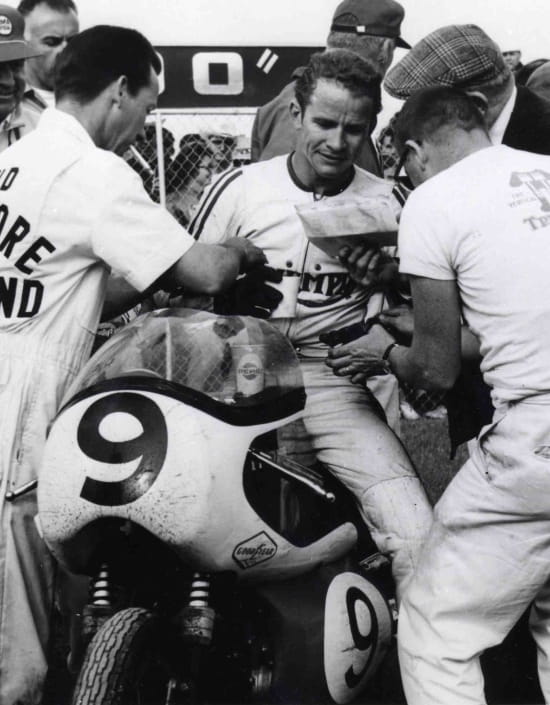 Image Source: John Nelson Archive
Track - Supersports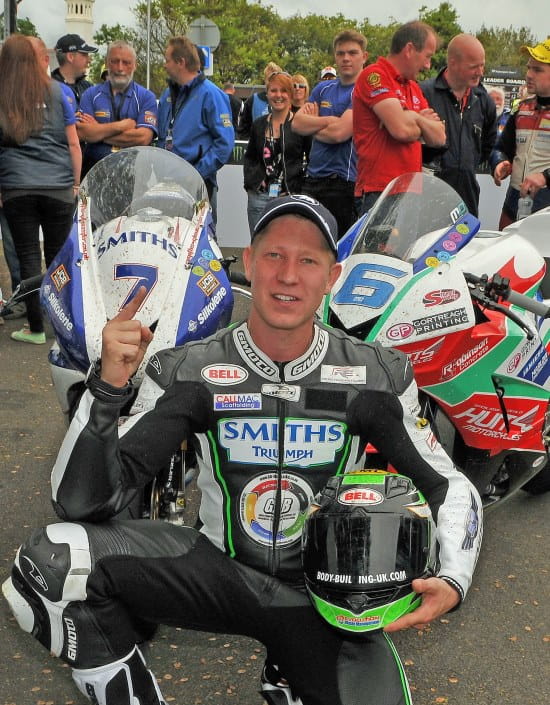 Track - MOTO2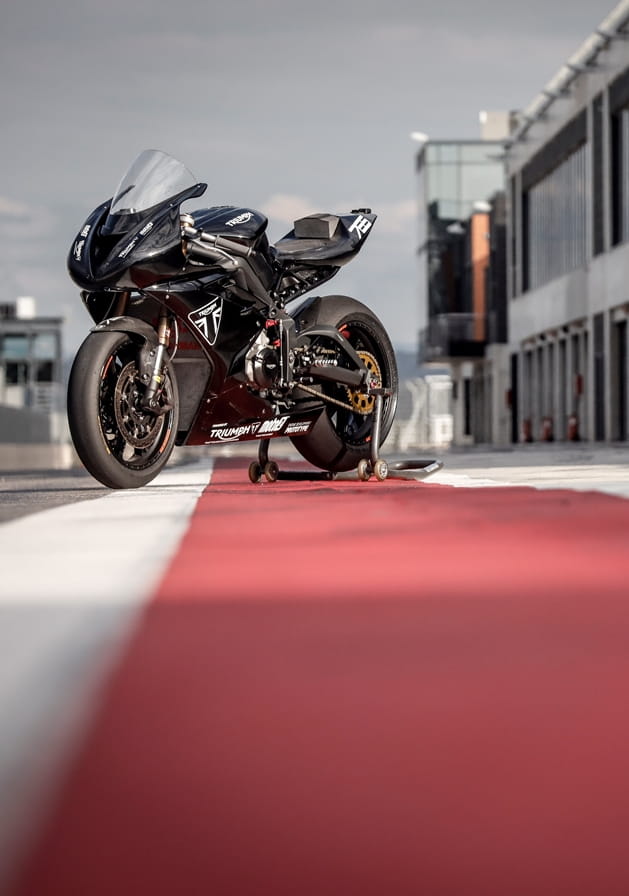 Ama Grand National Flat Track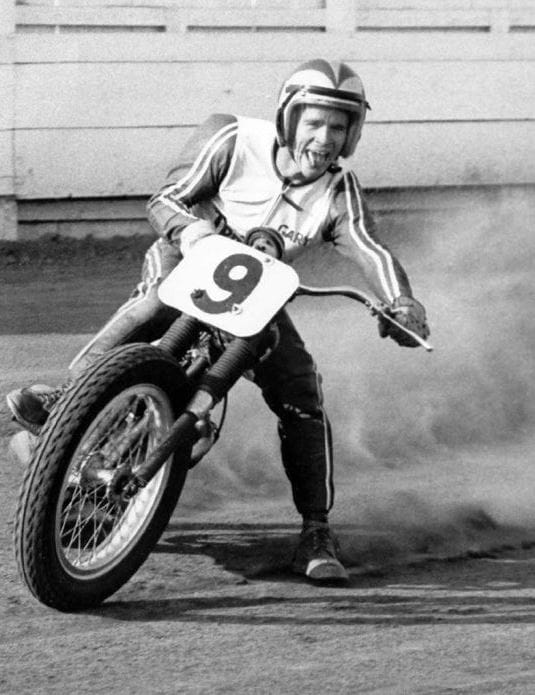 Daredevils